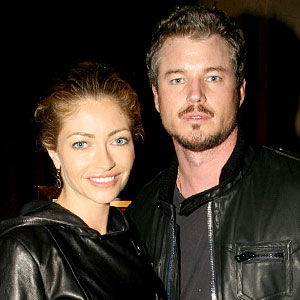 Matthew Simmons/Getty Images
UPDATE: Attorney Martin Singer maintains that, despite its sexy nature, the video is not a sex tape.
"This is simply a private, consensual moment involving a married couple, shot several years ago, which was never intended to be seen by the public," Singer said in a statement Monday.
"Although the participants are nude, the tape is not a 'sex tape.' It is a private tape made for only my clients' personal use, and nobody has the right to exploit it. If anyone exploits the tape, they will be violating my clients' rights and will be exposed to significant liability."
_____________________________________
Oh, Grey's Anatomy.
We were getting off to such a good start this year.
The T.R. Knight thing is behind us, Katherine Heigl has only told a couple of little tales out of school this summer, and hey, the sets haven't caught on fire. Everybody hoped we were on our way to a easy, breezy year!
Sadly, a controversy-free season of Grey's Anatomy was not meant to be.
Before season six has even launched, yet another Grey's Anatomy castmember has found himself in hot water...
Gawker has unearthed some video of a sex tape featuring Eric Dane (who plays arrogant and sexy plastic surgeon Mark "McSteamy" Sloan on the hit ABC series), Dane's wife, Rebecca Gayheart, and ex-beauty queen/Playboy model Kari Ann Peniche.
The threesome wander around someone's house naked and seemingly baked, and then slip into something more comfortable, a bathtub. They also discuss each other's porn names and generally appear to be enjoying themselves. (Beyond some nudity, the Gawker clip doesn't show any actual sexcapades.)
An uncensored, longer version of the tape will be published on Fleshbot Tuesday morning.
Dane joined the cast of Grey's Anatomy in season two as McSteamy, whose extramarital affair with Kate Walsh's Addison contributed to the end of her marriage to Patrick Dempsey's McDreamy.
Gayheart is known for being "the Noxema girl" (check out this YouTube clip of her and Jared Leto in one of the commercials that made her famous) and playing an ill-fated love interest for Dylan McKay on the original Beverly Hills, 90210. She pleaded no contest to vehicular manslaughter in the death of 9-year-old Jorge Cruz Jr. in 2001.
Peniche won the Miss Oregon Teen USA title in 2002. She appeared nude in the November 2004 issue of Playboy and was briefly engaged to Aaron Carter.
(Originally published Aug. 17, 2009, at 3:40 p.m. PT)
Source: Eonline